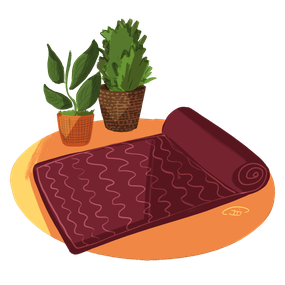 Back in 2014, my sister Joy said, "You need some form of regular exercise. Why don't we try yoga? My friend Elena is training to be a yoga instructor and needs students to practice with." I said, "But I'm not limber or flexible! And do we have to wear expensive yoga outfits?" Joy said, "No, you just need to be willing. Wear a t-shirt, and shorts that expose your knees." I was 47 years old then, and out of shape, so I thought it wouldn't hurt to try.
     We met every Sunday morning at Elena's house in Quezon City. There were usually about five to seven of us. We used Elena's props, although a while later we bought our own yoga mats. It was a liberating feeling to learn that Iyengar yoga suits people regardless of age, gender, or size. I surprised myself by eventually managing to bend over comfortably, touch the floor with the whole of my palms flat while keeping my knees actively engaged and my hamstrings stretched. It was funny how our other teacher Beth kept reminding me to engage my knees, and that is how I realized that mindfulness is required to practice yoga. Breathing, posture, remembering to engage the different muscles—all these, along with an awareness and appreciation of what you're doing—are important.
     Iyengar yoga wasn't easy, but it wasn't impossibly hard, either. Some poses I enjoyed, some filled me with dread. Later I learned how to approach them with an openness and willingness to try my best, but not to overextend myself if anything hurt or felt off.
     Inversions were particularly challenging. I learned to conserve my energy so I could return to a safe position without falling. I had to adjust poses for the times I had high blood pressure, experienced vertigo, or felt dizzy. But there was always a way to practice. Elena, Beth, Saree, and Jess always challenged us to hold the pose  for "just a little bit longer", and even though we groaned, we always felt a feeling of accomplishment afterwards. Savasana was like a reward at the end of each session.
     I am 53 now. Apart from the fact that I have maintained the same jeans size for the past five years, I think Iyengar yoga helped me ease into menopause. I do not have terrible hot flashes, and I do not have mood swings. I am mellow most of the time. Best of all, I have met a number of people my age who understand what I am going through. Iyengar yoga is indeed good for us mature women. No need to be anxious about looking Instagram-worthy or to be in an ego race to do all the difficult poses. Iyengar yoga teaches you that you can do as much as you are willing to do.  If you practice regularly, you can move your goalposts little by little until you surprise yourself with what you are able to achieve. As your fear vanishes, your confidence grows, and your practice is enriched.
     Congratulations and Happy Fifth Anniversary to Sankalpa Yoga Studio! May you grow from strength to strength! Thank you for letting me be part of the community.